Spell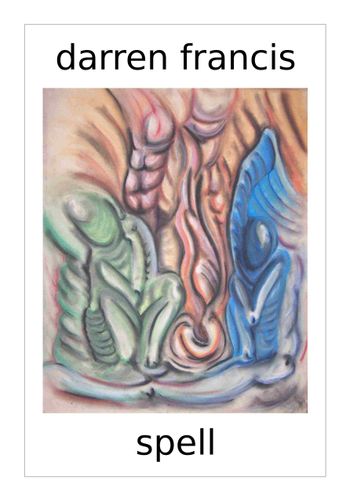 DF's book Spell was published on 29th February 2008. Paperback, 170 pages, ISBN 978-0-9556840-0-5.
Go here to read some excerpts and buy a copy - physical or digital - of the book.
Spell features eight separate pieces by DF:
Despite Straight Lines: Self-harm for fun and profit.
Circulating: Two men. A crop field. Night. Join the dots.
Red Room: Where do you go, when the aliens are the better of your captors?
The Golden Boy That Flew To Never: I was born to epiphanise. Soared heaven blue and drank deep of life. Alcoholism was never meant to be an option.
Binary: My girlfriend is German, my parents extraterrestrial. Road-trip. Art Bell on the radio.
Disappear Here: Men don't get anorexia.
Citizen: Five cats. A knife. A job. A psychopathic father. Walls papered with dollar bills. A corpse on my floor.  I love life.
God Thing: There is no war on terror.
Some of these have been previously published in one form or another, some haven't.