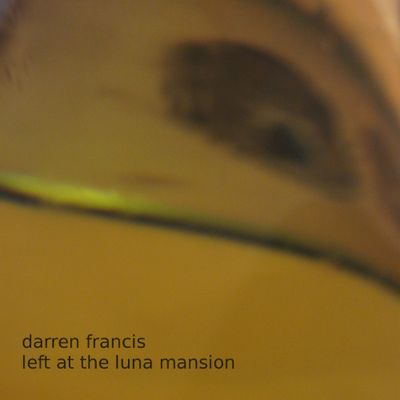 Spoken word with music album, released on 31 October 2016. Stream or download here.
Here's the track listing:
01: Ra Hide Away (1.28)
02: A Pocketful Of Bullets (1.10)
03: Bass Strings (1.10)
04: White Noiz (0.51)
05: Buddha's Mistake (1.23)
06: Coelacanth (1.47)
07: Signifying Mother (2.05)
08: The Books I Haven't Read (1.35)
09: Klaxons (0.41)
10: The Ten Thousand Ontological Use Of The Word 'Fuck' (2.22)
11: Hometime (1.31)
12: You Cannot Wait While In The Air (1.53)
13: Bone Thing (1.13)
14: Rebis (1.18)
15: Ahh Bitte (2.25)
16: Sandman (2.29)
17: West Ramona Spiders (1.23)
18: Heavy Peace (2.00)
All tracks created between January and March 2016, and mixed in April and May 2016.
Text, voice, music: Darren Francis.
Guitar / piano / crowd ambience samples public domain/creative commons 0.
Drones, tones, everything else, Darren Francis.
All texts were written between 2007 and 2008. At the time I was living in Aylesbury, Buckinghamshire with my now ex-wife, drinking what I might charitably describe as "heroic" amounts of booze and wrestling with all manner of matters ontological and eschatological. I believe the term is 'functioning alcoholic'. Alcohol is definitely a theme here; alcohol, and quiet desperation in middle-age middle England.
Why the title? Aforementioned ex-wife made a custom mix CD which we'd frequently listen to during the period these texts were written, and which she named Left At The Luna Mansion. I've wanted to use it for an album for a long time. Much as I liked it, though, I never did ask her why or what it meant to her.