The third and final part of my retrospective look at the music of Marc Almond.
Stranger Things (2001) ***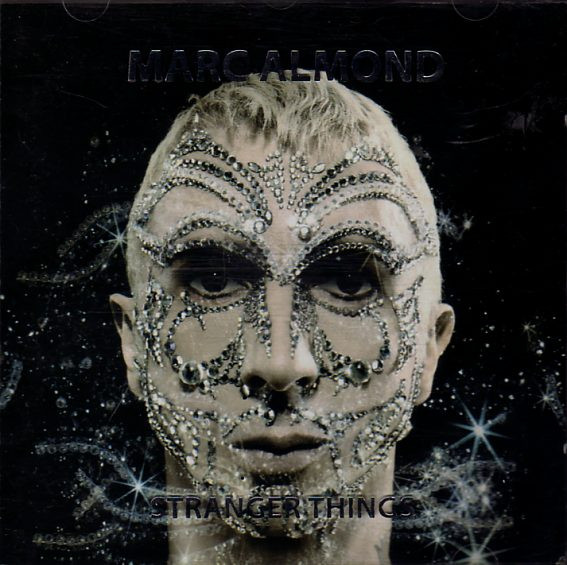 Marc Almond is the kind of guy the term 'national treasure' was coined for, but I find that some of his later albums can be hit and miss affairs. I've given Stranger Things more than a dozen listens through, and few of its tracks stand out for me. Sometimes this can be a good thing, and denotes an album for sustained and deeper listening rather than one for just dipping into, though I fear that won't prove to be the case here. The vocals are fine as ever and the musical backing does the job, but the songs just come and go with few enticing me or lingering in my memory. I will listen to it further before giving up on it. Either something will suddenly click into place and the album will open up for me, or I won't much care to hear it again. I really can't say yet which way it will go.

Cruelty Without Beauty (2002) ****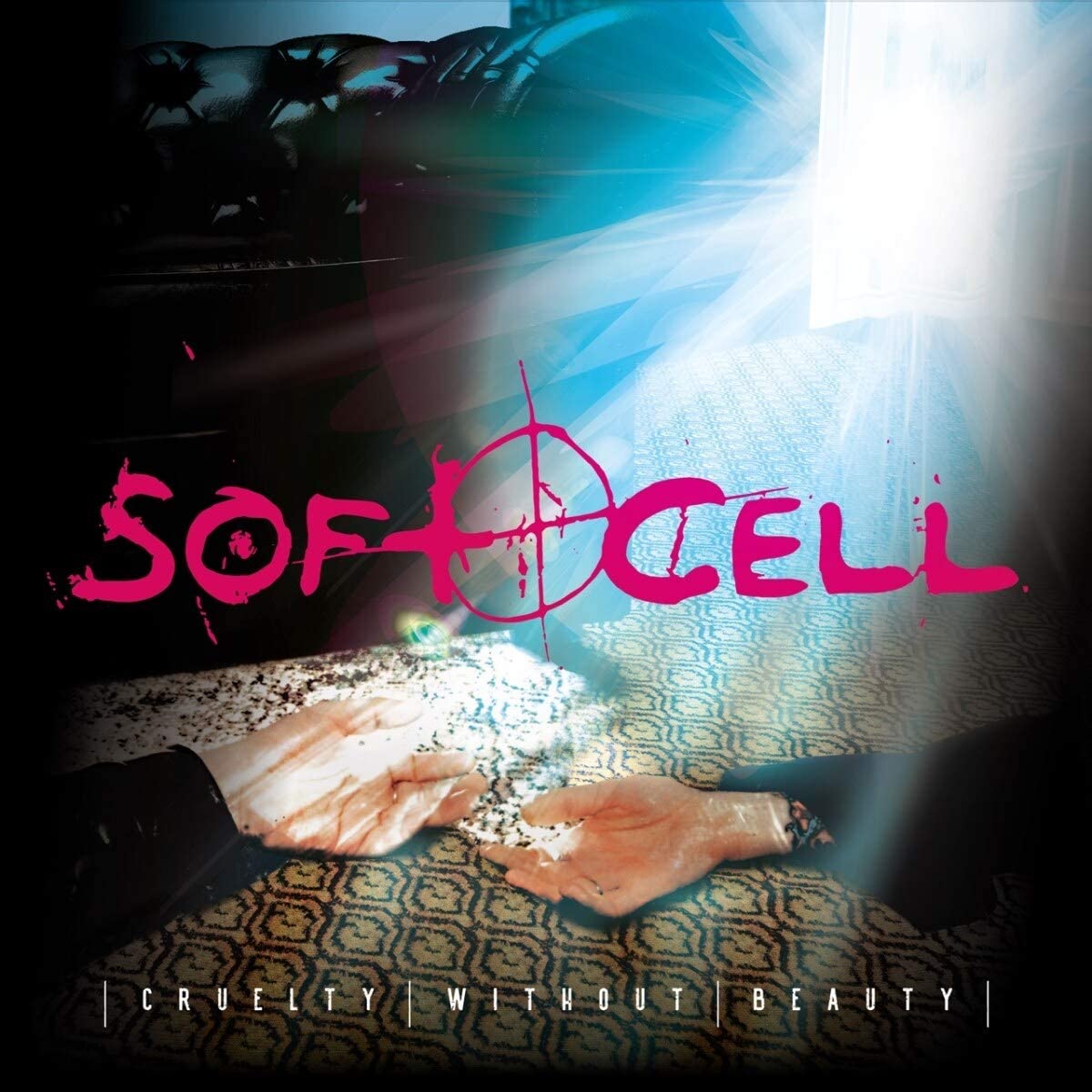 I have no problem in theory with bands reforming after years apart and recording new material - Suede and Bauhaus are two of the more notable ones that come to mind who have made it work - but it often doesn't end satisfactorily in practice. The two new tracks on yet-another-compilation album* The Very Best Of Soft Cell from 2002 showed great promise, but I find Soft Cell's comeback proper Cruelty Without Beauty, also released in 2002, to be a mixed affair, sometimes unremarkable musically yet redeemed by some often excellent and acerbic observational lyrics. It pales in comparison to their eighties releases, but fans will still find much to enjoy in this new and grown-up version of the band.
*There are now far more Soft Cell best-of collections than there are actual studio albums to compile them from.
Heart On Snow (2003) *****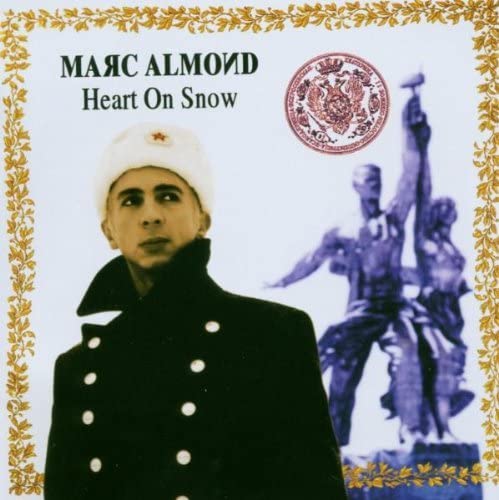 For the last month or so I've been working my way through the albums in Marc Almond's sprawling back catalogue I'm not familiar with in a non-linear fashion, picking up each in whatever order appeals to me at the time, and this was one of the last I listened to. I'd been putting it off, truth be told, but I now wish I hadn't. It's probably his best since 1993's Absinthe and has swiftly become my favourite Almond album of the 00s, albeit I can see that it's an acquired taste and perhaps not for everybody. If you're only a fan of Almond's more commercial albums like Enchanted or The Stars We Are or Tenement Symphony, you might want to steer clear of this one.
For those not afraid to take a dive into more experimental waters, what do we have here exactly? In 2000 Marc Almond relocated from London to Moscow, renting an apartment there and intending to further explore the Russian folk and romance and torch song scene he'd previously encountered a decade prior while touring the country. Three years later Heart On Snow was the result, a collaboration between Almond and numerous and varied traditional and popular Russian musicians. All songs are translated into English - and indeed many had never been sung in English before this album - and the musical accompaniment stays just the right side of traditional and folky with a contemporary sheen. Almond's vocals are uniformly excellent throughout.
It should perhaps be said that Heart On Snow is unlike anything else in Almond's discography aside from the later Orpheus In Exile from 2009, which is very much a companion- or sister-album; the only other comparison I can find is with the aforementioned Absinthe, when Almond attempted something similar with French song. If you're unfamiliar with or dislike Orpheus In Exile or Absinthe, you might want to stream this one before taking the plunge and buying it as it may not be for you.

Stardom Road (2007) ***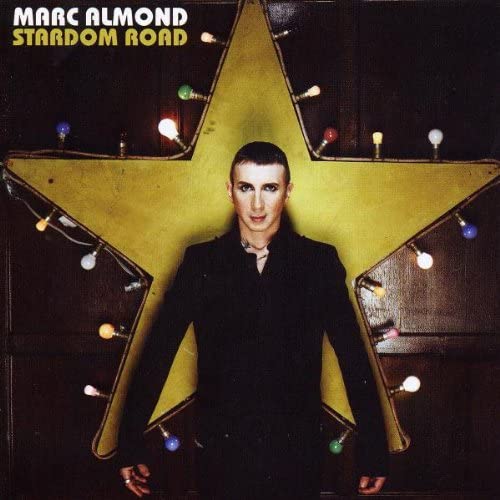 An album comprised almost entirely of covers of fifties and sixties songs, featuring songs originally by the likes of Dusty Springfield, Frank Sinatra, David Bowie, Charles Aznavour, Roberta Flack, Gene Pitney, and Bobby Darin. Sarah Cracknell, Anohoni of Antony And The Johnsons, Kiki Dee, and Jools Holland guest. The lose theme is an abstract telling of Almond's career and life through songs that had been significant to him. I wouldn't say it's a bad album, per se, but I find it all a little insipid compared to Almond at his peak. His voice is as fine as ever, the musicianship accomplished, but I'm not sure how well either suits the material. Your mileage may vary.

Orpheus In Exile (2009) ****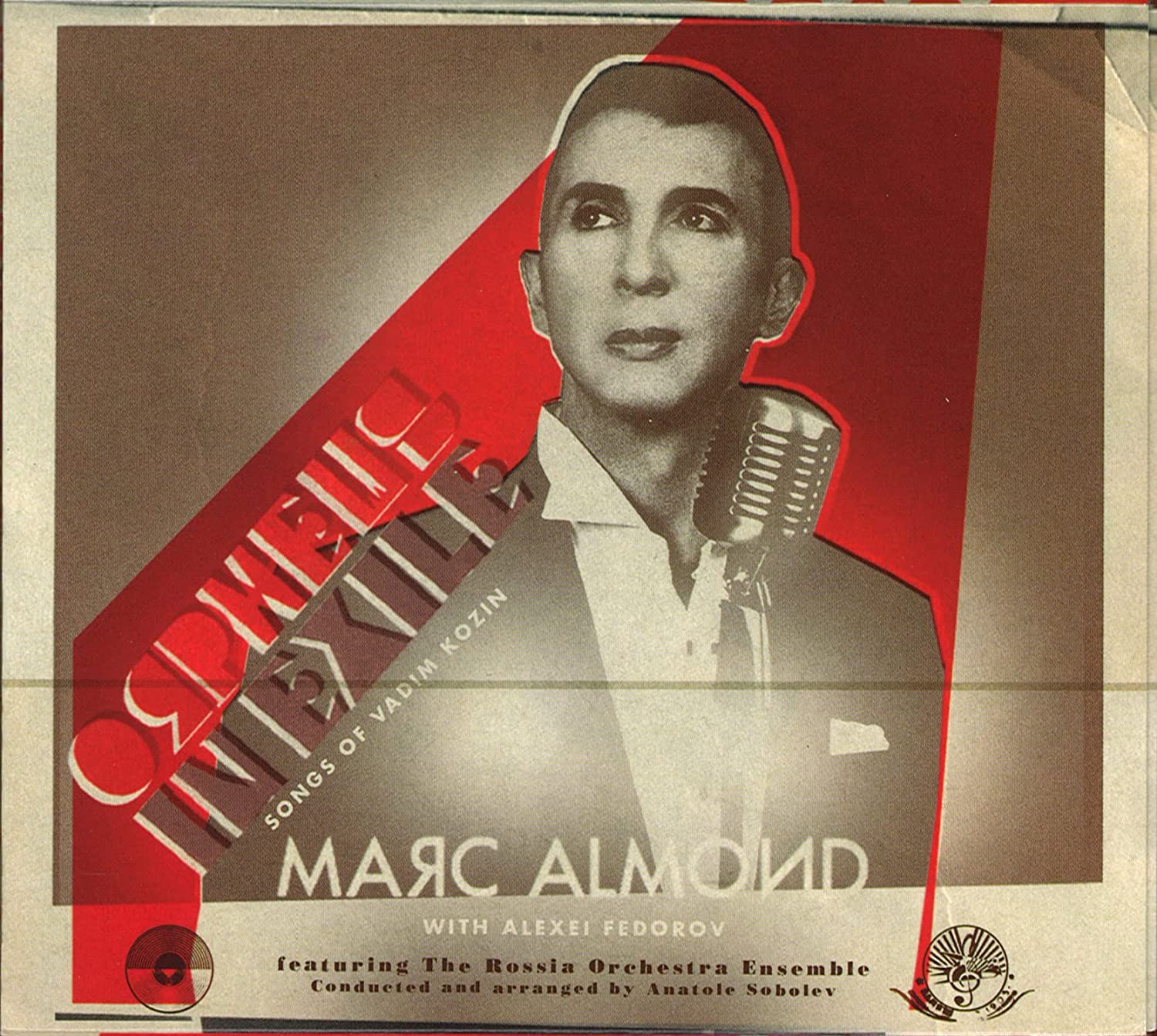 Very much a sequel and companion album to 2003's Heart On Snow, once again featuring Russian popular songs translated into English and sung by Almond to an accompaniment by Russian traditional and folk musicians. The album was released as a tribute to Russian singer Vadim Koin, a gay icon and dissident who had been exiled to a gulag in the Arctic Circle for his refusal to honour Joseph Stalin.

I don't find it as effective as Heart On Snow, which is my favourite of Almond's 00s albums, and don't like it quite as much as I feel I should, but I'm not entirely sure why. On paper everything works, but in practice it lacks the grandeur and scope of Heart On Snow, and the song-choice doesn't feel as strong this time round. If you liked Heart On Snow though, you'll like this one too. If you didn't, this album won't convince you.

Varieté (2010) ****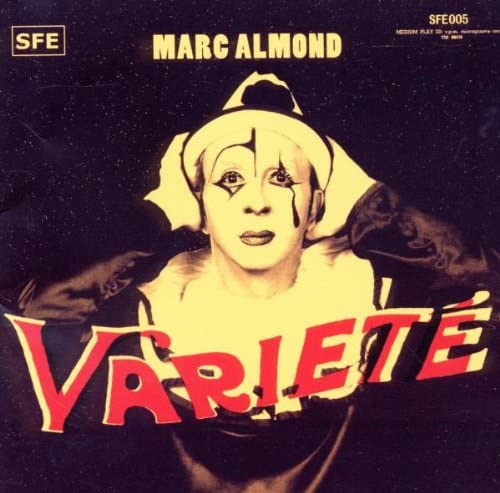 Marc Almond's first album of original songs in nine years sees him indulge a music hall and cabaret interest in places. One can easily picture him on the stage of a smoky Victorian theatre in limelight and greasepaint, delivering some of these tracks to a rowdy auditorium, and the mostly rudimentary instrumentation and arrangements aid in that immeasurably. If that sounds like your bag then by all means give Varieté a listen, but it's not particularly mine (says the guy whose favourite Almond solo album is Mother Fist).
That said, not every song here is in that vein, and many are more traditional Almond fare. However this schism in the album's disparate styles works against it in my view, with the tracks interspersed throughout when it would perhaps have been better if the album were either one or the other, or if the songs in the two styles were grouped together. As it is, it feels somewhat chaotic and jarring. Amongst it all there are some strong tracks - for example the gorgeous Lavender (by far the best thing here), or The Exhibitionist, or My Madness And I - but not enough to hold the whole together as an album. By all means check Varieté out if you're an Almond aficionado, but it's not one of his strongest collections of original material to this writer's (and long-term fan's) ears.

Soho Songs For Piccadilly Bongo (2010) *****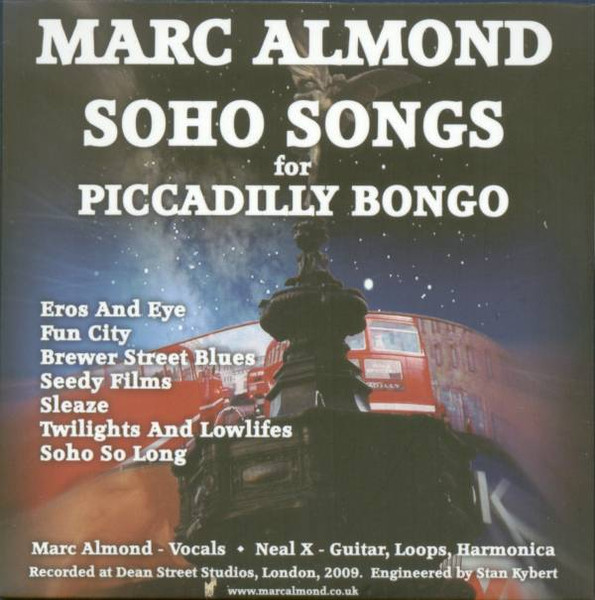 Marc Almond is often at his best when keeping things simple, stripping the musical accompaniment down to the basics and allowing his voice and songs to shine. Soho Songs For Piccadilly Bongo gathers seven of Almond's Soho-themed tunes from his back catalogue into one set of entirely new recordings, including one Soft Cell song (Seedy Films) and three from Marc And The Mambas (Fun City, Sleaze, and Twilights And Lowlifes). Instrumentation is bare and unadorned throughout (or even entirely absent in the case of the acappella Eros And Eye), primarily just acoustic guitar and with occasional brief though unobtrusive flourishes of electric guitar, harmonica, or percussion. Even though I already knew most of these songs inside out, this release brings them to life in an entirely fresh and rather fantastic way. There are even some - in particular Twilights And Lowlifes, and Soho So Long - that I've never been a fan of in the past, but now have a newfound love for. Soho Songs really is something special in my view, and the best thing I've heard from Marc Almond in a good while.
Feasting With Panthers (2011) *****
A collaboration between Marc Almond and Michael Cashmore, better known for his work with Current 93 and Nature And Organisation, featuring the poetry of Arthur Rimbaud, Jean Genet, Paul Verlaine, Gerard de Nerval, Count Eric Stenbock, and Jean Cocteau, all in translation and sung by Almond to Cashmore's delicate musical backdrops of mostly acoustic guitar, sometimes piano, with occasional percussion or electric guitar. It was recorded over several years, with both men in separate countries and sending music and voice files to each other, not that you'd notice.

Released mostly to indifference, Feasting With Panthers didn't chart at all, and it remains one of Almond's most under-looked albums, wistful and fragile-sounding and somewhat decadent. You won't find anything approaching a hit single here, so if commercial pop Almond is your thing you might want to look elsewhere. Others will find a great deal to savour and to delight in.

The Tyburn Tree (2014) ****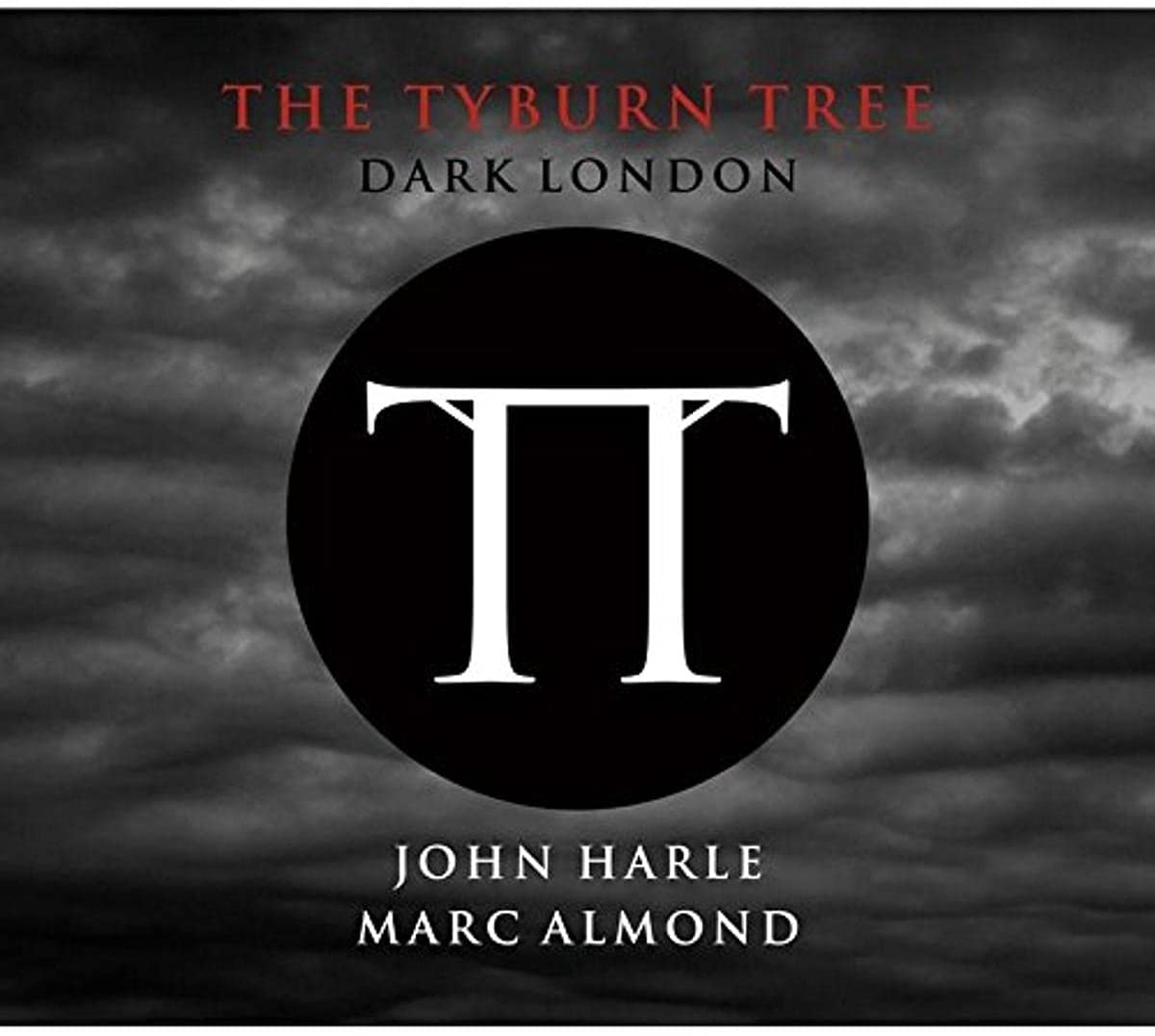 A song-cycle with lyrics mostly by Almond and music by John Harle, exploring London's dark and macabre and criminal history. The musical backing is varied, ranging from electronic to classical to acoustic to ambient, and matches the material perfectly, and Almond's vocals are as on point as ever. Famed soprano Sarah Leonard also appears in places, and pychogeographical author Iain Sinclair guests on voice on one track.
With the absence of anything resembling a single, and some tracks that couldn't even be considered songs, The Tyburn Tree definitely falls on the more experimental side of the Almond spectrum. Like the not-dissimilar (though in my view inferior) Ten Plagues, it does require attention and focus, and is far from a casual listen, though makes for a dramatic and rewarding experience for those willing to take the time to engage with it.
The Dancing Marquis (2014) ****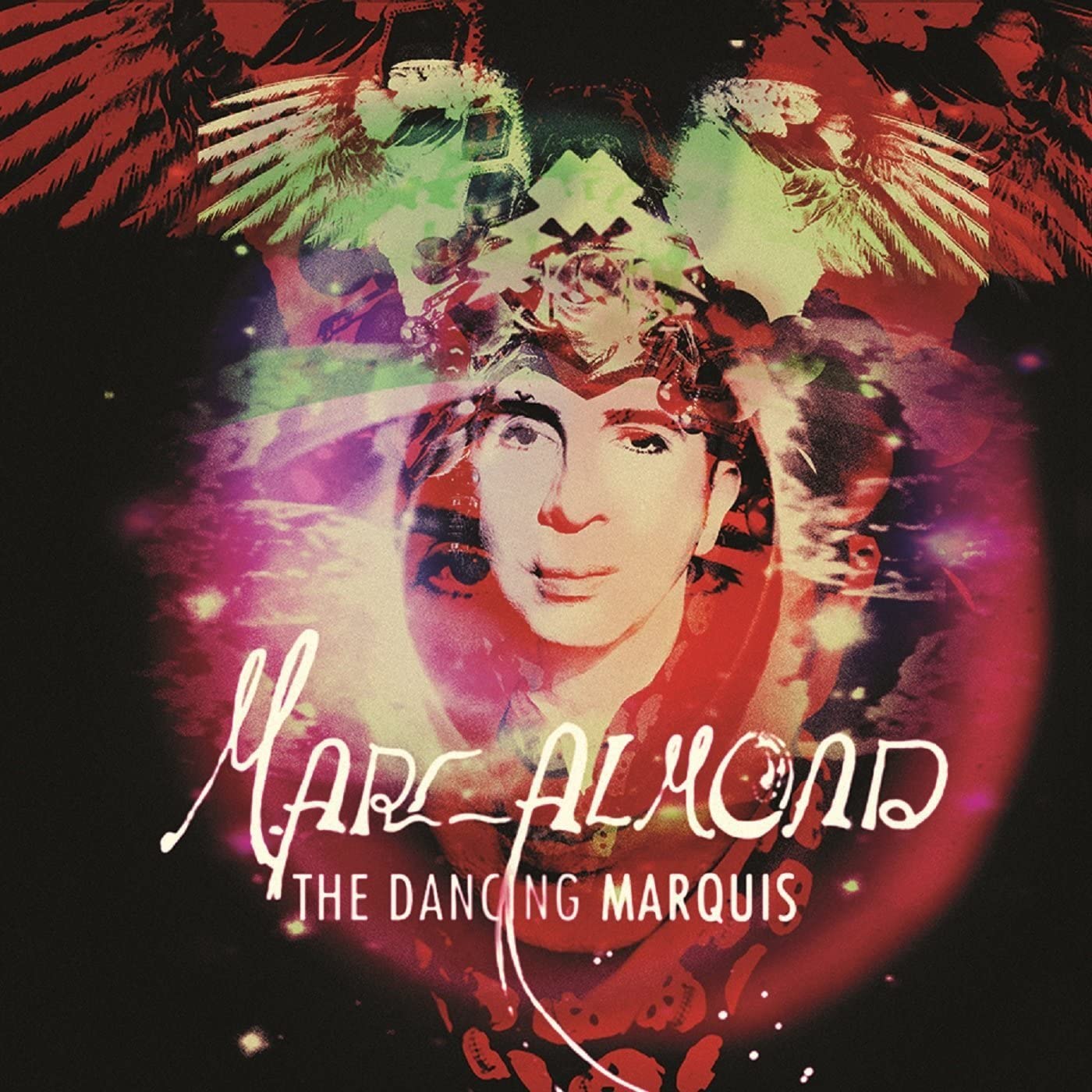 The Dancing Marquis collects tracks from some singles - the 7" vinyl EPs Burning Bright and Tasmanian Tiger - along with a couple of bonus songs exclusive to this album release. The opening title track The Dancing Marquis is strong indeed, but things go downhill from there (albeit Burning Bright and Worship Me Now demonstrate great promise) and don't fully pick up again until penultimate track So What's Tonight? The excellent finale Idiot Dancing is even better, but by then it's all a bit too late to redeem it as an album. In the interim guest vocalists and musicians come and go, including Jarvis Cocker and Carl Barat. Legendary David Bowie collaborator Tony Visconti even stops by to produce a couple of songs. Two pointless remixes of Worship Me Now round off proceedings.
Ten Plagues (2014) ****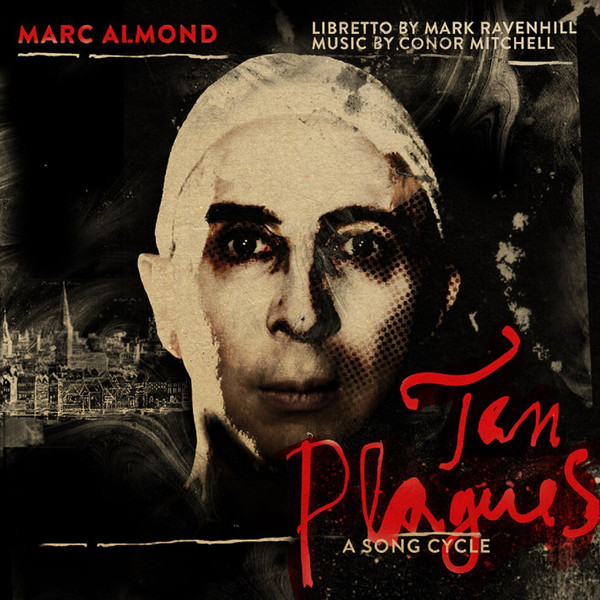 Ten Plagues is a song cycle for voice and piano concerning the 1665 Great Plague of London, written by Mark Ravenhill (words) and Conor Mitchell (music) especially for Almond. It was performed at The Edinburgh Festival in 2011 and elsewhere before being recorded. Other Almond releases of voice and piano have been great (for example Violent Silence, or Against Nature, both much-recommended) but I'm less convinced by this one. It's a difficult album to review, or even form an opinion of, and I deliberated for a good while as to what to give it in the way of a score. It isn't the sort of album one can just stick on and listen to in the background. It requires attention. It requires focus. It needs to be heard in its entirety in one sitting, and isn't something one can savour selected tracks from. Though I like it, and it's impeccably composed and performed, I can't imagine listening to it again very much. It's a curio, an album to be appreciated rather than enjoyed.
The Velvet Trail (2015) ***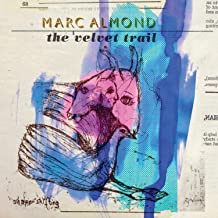 The Velvet Trail was Marc Almond's first full album of original songs since 2010's Varieté, and written in collaboration with Chris Braide. The remit for the new project, according to Braide, was to create 'the ultimate Marc Almond album', a curious choice of wording in this author's view when the ultimate Marc Almond album has already been made numerous times over, in the form of - to give but a couple of examples - Mother Fist And Her Five Daughters, or Stories Of Johnny. Even Against Nature, released a mere six months after The Velvet Trail, is more an 'ultimate Marc Almond album', albeit more experimental in style.

So what do we have here exactly? Sixteen new tracks (of which four are brief instrumentals) all composed by Almond and Braide, with all lyrics by Almond. The musical accompaniment is to-the-point and unobtrusive, just guitars and programmed drums and strings for the most part, and Almond's voice is strong. Unfortunately I can't say that I find many of the songs particularly catchy or memorable, and that's ultimately where the album falls down for me. It all feels somewhat by the numbers, and there's little here that Almond hasn't written better before. He can be an excellent songwriter and lyricist, one of the best and most underrated of his generation, but I find much of what's on offer on The Velvet Trail to be weak and unfocused compared to Almond at the top of his game. There are some highlights - which for me would include Bad To Me, Demon Lover, Scar, and Life In My Own Way - but they feel too few and far between. I do seem to be in a minority with this album though, with many fans considering it a highlight of Almond's career, so by all means give it a listen and make up your own mind.
Against Nature (2015) *****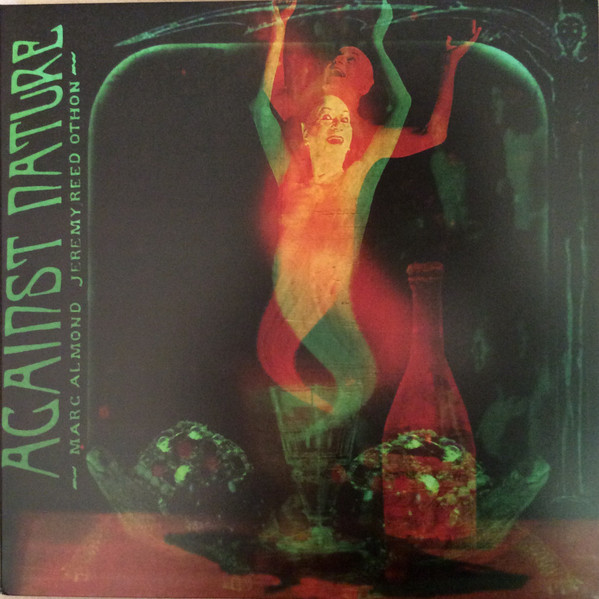 One of my favourites of Almond's more recent releases, Against Nature is a stripped-down affair, just voice and piano and occasional strings. All words are by Almond and poet Jeremy Reed, with music by Almond and pianist Othon. The album is titled and styled after the book by Joris-Karl Huysmans, which Almond has described as 'still probably one of the most decadent books ever written.' Tense and dramatic, Against Nature definitely falls on the more experimental side of Almond's discography; if you're only into his poppy and commercial aspect it won't be for you, but others not afraid to dive deeper will find much to enjoy here.
Silver City Ride (2016) *****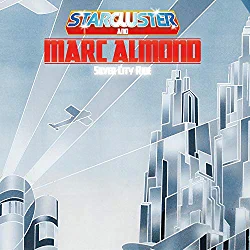 As a long-term Marc Almond and Soft Cell fan, I can't say that either of Soft Cell's comebacks, Cruelty Without Beauty (2002) and *Happiness Not Included (2022), are amongst my favourites; see my commentaries elsewhere on this page. If you're looking for a contemporary return to Almond's synth pop roots, this album may be more to your liking. It's also definitely one of the most obscure of Almond's recent efforts. It's a shame it was put out under the name Starcluster & Marc Almond, and not simply as a Marc Almond solo release; it would likely have fared better commercially.
This author is unfamiliar Starcluster outside of this album aside from seeing their name on a remix here and there and knowing they are an Anglo-German duo comprising Roland Faber and Kai Ludeling, but they craft the perfect synth backdrops for Almond's vocals and lyrics, which are strong throughout, and all in all it sounds more like Soft Cell than Soft Cell do these days. Highlights for me would include the title track, Pixelated, The City Cries, Smoke And Mirrors, To Have And Have Not, and I Don't Kiss, but the whole album makes for a satisfying listen.
Trials Of Eyeliner: Anthology 1979-2016 (2016) *****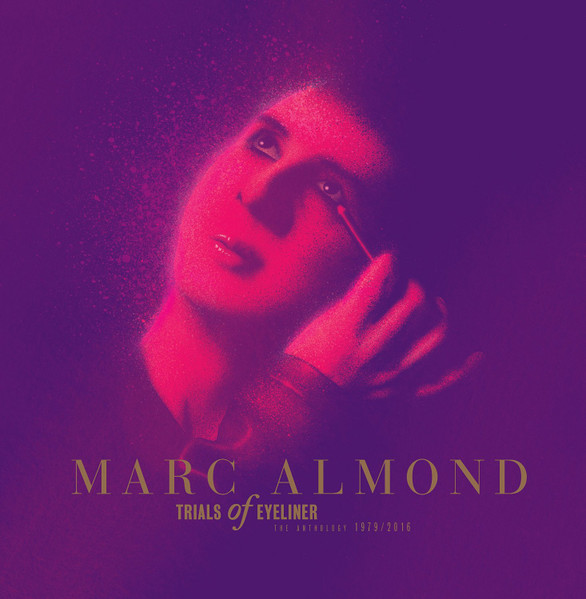 As a rule (and with the exception of A Virgin's Tale and Treasure Box, both featured in part two, and Little Rough Rhinestones and Keychains And Snowstorms, which are up shortly) I've avoided including compilation albums in this retrospective but this one is notable, a ten-disc collection compiled by Almond himself and spanning his entire career, from the Soft Cell and Marc And The Mambas days and through his solo years up to 2016. Though many of the tracks are easily available on other releases, and it inevitably includes all the same hits as every other Almond and Soft Cell compilation, there are also some rarities and exclusives, making it the perfect release (unless you're the sort that has to have a physical copy of everything you buy) to selectively download the tracks you don't have from and forget about the rest, which is precisely what I did with it. There are a fair few songs unearthed from the vaults here that I'd never heard before. I won't list them all, but they'll jump out at any fan browsing the track listing.
I do sometimes wonder who these kinds of multi-disc releases are aimed at exactly. They're not the sort of thing a casual listener would pick up if not familiar with the artist, and dedicated fans will already have the vast majority of what's included, meaning they're shelling out a large sum for a relatively small number of tracks. Much better would be to just release all the rare stuff on one disc, but I guess there's far less money in it for the record label that way. No, instead let's fleece the fanbase again. Thank heaven for single track downloads, I say.
As for my rating, I've begrudgingly given it a five purely for the quality of the music on offer. If I were taking into account the business practices behind its release as detailed in the previous paragraph, I'd probably go for a three.
Shadows And Reflections (2017) ***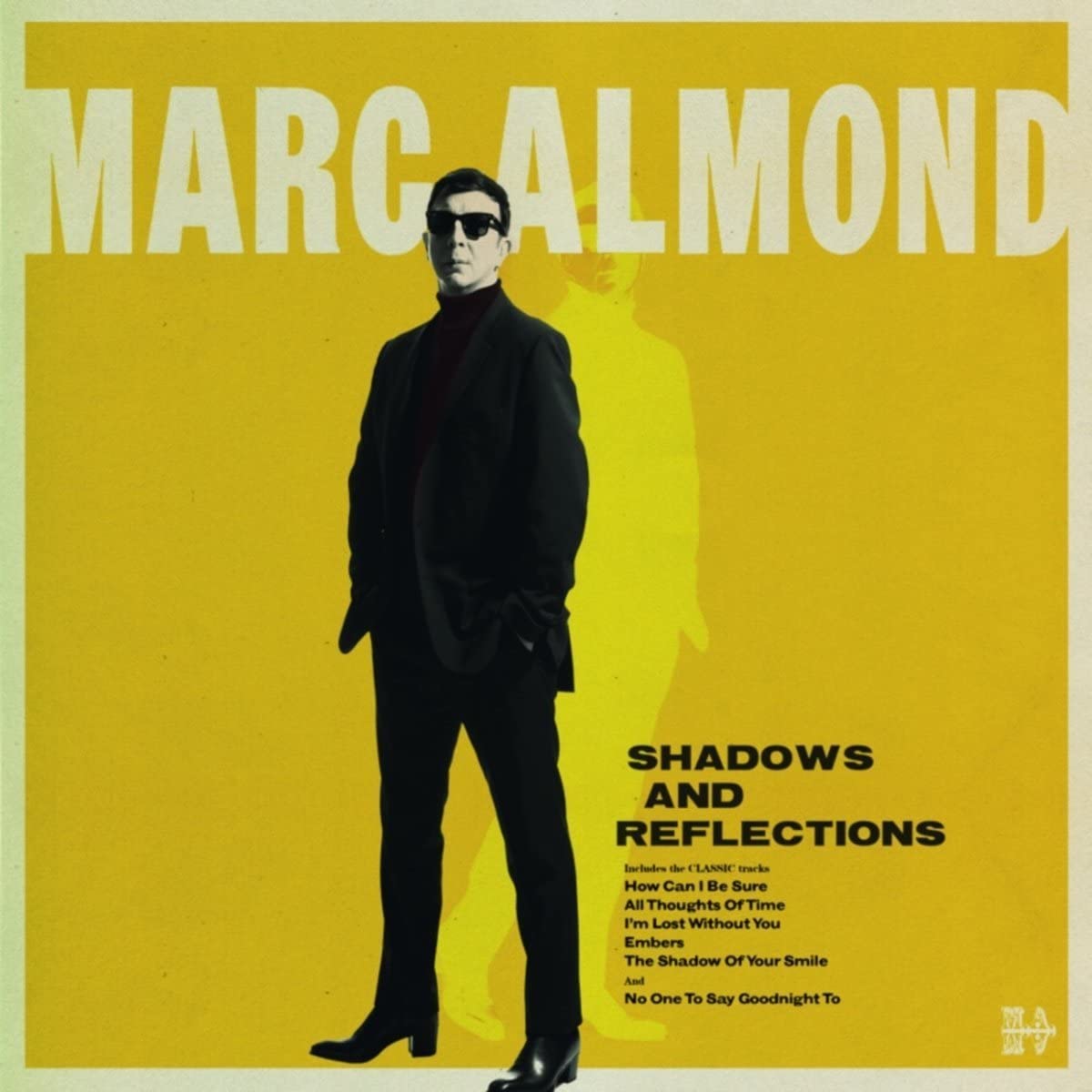 A covers album very much in the vein of the earlier Stardom Road from 2007. The musicianship and vocals are all in fine form, but like Stardom Road I find the song choice to be somewhat middling. I'd even go as far as to call the whole thing 'easy listening'. Maybe it's just me, but I much prefer Almond when he's interpreting for example obscure European poetry and song than when he's tackling fifties or sixties pop. I find the source material a lot richer and more interesting, and the results more fruitful and more rewarding to listen to. That said, if it's a side of Almond's music you like - and the man does indeed have many strings to his bow - then you'll find something to enjoy here. It's just not for me.
Little Rough Rhinestones vols 1 & 2 (2017) ****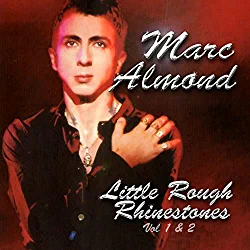 Named after a track on Soft Cell's third album This Last Night In Sodom, Little Rough Rhinestones is a demos, out-takes, and obscurities collection originally put out in two parts in 2002 via Marc Almond's website and later given a wider release as a single volume.
There are a few duds here it must be said, songs that likely weren't released first time round for a reason, and some tracks that have since been reissued elsewhere as bonuses on other albums, so it's one to selectively pick your way through and compile your own playlist from. That said, both volumes are now available as a single album download, and it's difficult to argue with thirty songs and two hours of music for less than the price of one CD.
Keychains And Snowstorms – The Soft Cell Story (2018) *****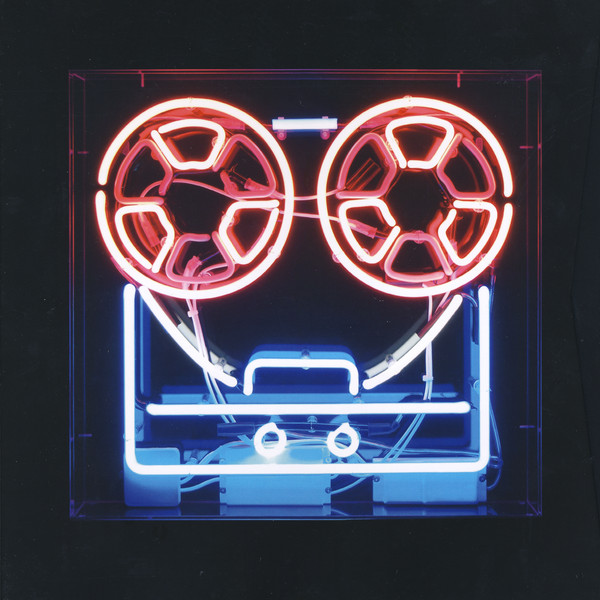 Confusingly there are two Soft Cell releases named Keychains And Snowstorms (title taken from a lyric to early song Memorabilia), both released simultaneously and with similar cover designs. One is a single-disc, twenty-track collection featuring the same songs as the myriad other Soft Cell compilations out there for the most part. The other, which is the one that concerns us here, is a nine-disc plus DVD retrospective featuring numerous rare mixes and recordings. Though there's previously released material that most fans will already have, more than half of its 120-odd tracks have never been released before, including a complete gig from Los Angeles in 1983 originally intended as a live album but not put out at the time. It's pricey and hard to get hold of these days, but fans will want to track it down.

A Lovely Life To Live (2018) ***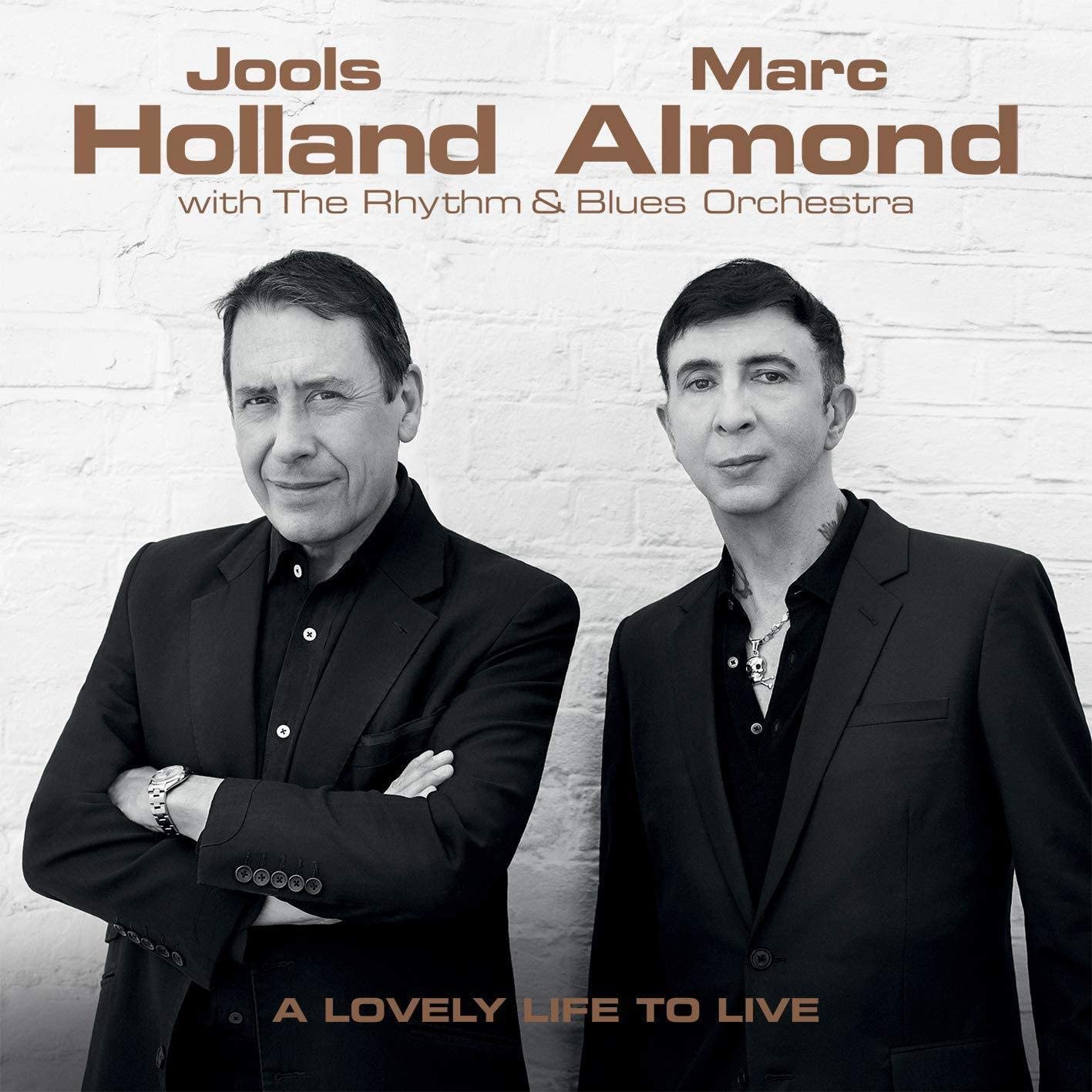 I approached this release - which really isn't my sort of thing usually - purely as a long-term Marc Almond fan. I find that all of his albums contain at least something of interest to me, even the ones I don't particularly like, but this one did nothing for me at all. It's a collaboration between Almond and Jools Holland featuring a full band (Holland's Rhythm & Blues Orchestra), for a set comprised entirely of covers including the inevitable Tainted Love. The band is very much in a traditional blues/jazz vein, with Almond's vocals - usually dominant on his recordings – sometimes subsumed into the mix. It feels much more like a Jools Holland album than it does a Marc Almond one. It's thoroughly average to my ears, albeit accomplished and well-performed, and not my thing at all.
Chaos And A Dancing Star (2020) ****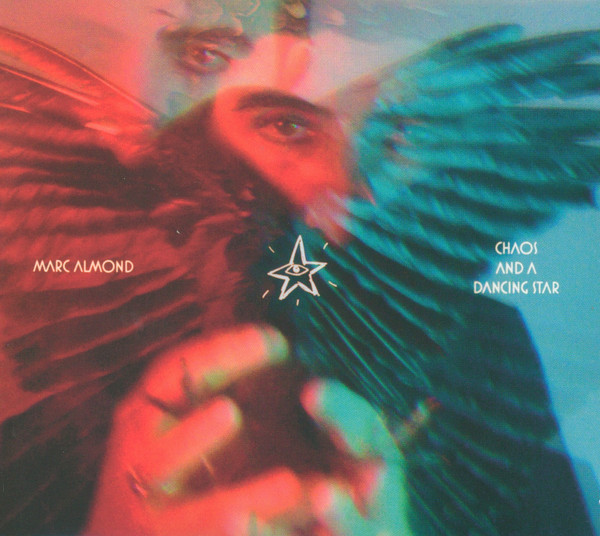 Chaos And A Dancing Star is Marc Almond's second collaboration with musician and co-writer Chris Braide, following The Velvet Trail from 2015. I can't say I much enjoyed The Velvet Trail (see my commentary above), but this is better, if only because the songs are stronger.
That said, it's far from a cheerful affair. Many of the lyrics are somewhat bleak and apocalyptic, filled with loneliness and collapse and dust and black suns and chaos and stars burning out and ultimate fleeting insignificance; one song even has 'love's an apocalypse' as backing refrain to its 'when the stars are gone, who will sing our song?' chorus. This isn't a problem for me, but some might find it a rather depressing listen. Personal highlights amongst its tracks would probably be Black Sunrise, Cherry Tree, Fighting A War, and When The Stars Are Gone, but yours will likely vary; it's that kind of album.
If you enjoyed The Velvet Trail, you'll likely enjoy Chaos And A Dancing Star too since it is very similar in style. If you didn't, I'd say it still warrants investigation, being the better album of the pair. That said, I know many Almond fans disagree with me, and find The Velvet Trail preferable; he ever was the sort of artist to provoke diverse and divisive reactions.
*Happiness Not Included (2022) ***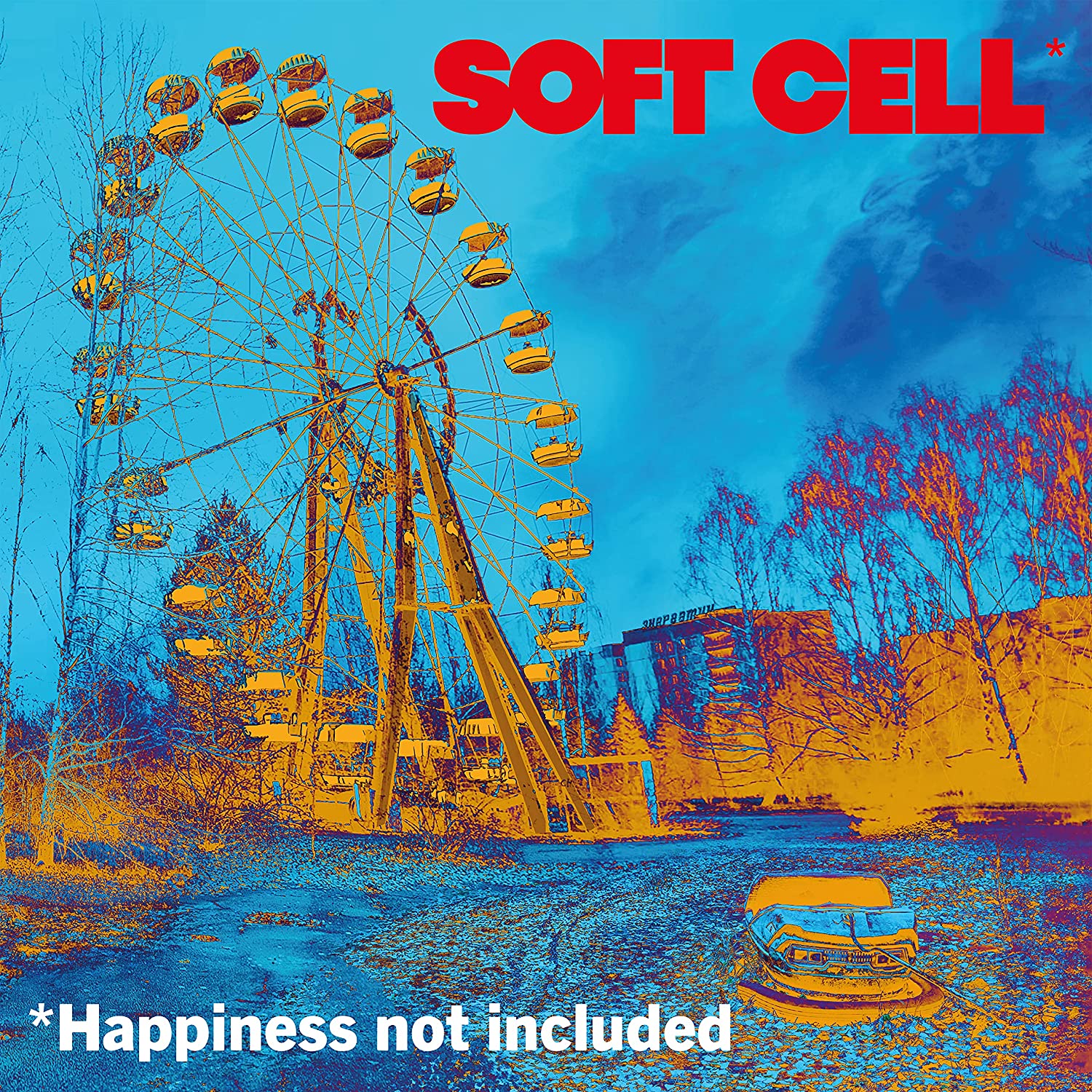 I was in two minds about Soft Cell's 2002 reunion album Cruelty Without Beauty, finding some pleasure in it yet considering it a shadow of the wonders of their early eighties days.
*Happiness Not Included (and yes, the asterisk is part of the title and not a typo) is more of the same but duller, and largely bereft of memorable tunes or noteworthy lyrics to my ears at least. After nigh on a dozen listens, few of its tracks do much at all for me. And did anybody really need or ask for a Soft Cell/Pet Shop Boys collaboration?
Things We Lost (2022) ****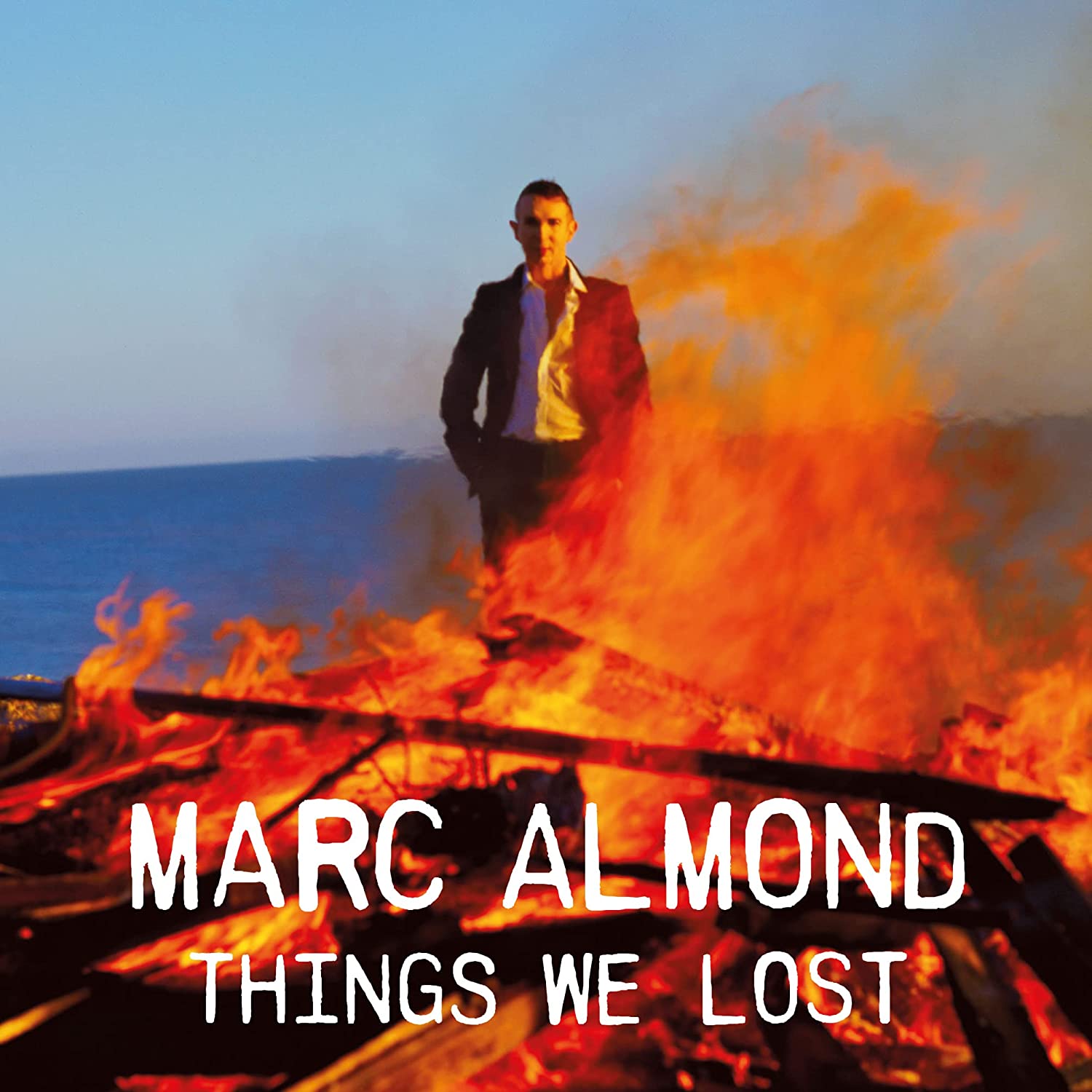 Effectively a six-track studio EP massively expanded to a three-disc release by the addition of thirty-seven live tracks recorded at The Royal Festival Hall in London. The studio tracks are fine, albeit mostly not essential, and the live songs - a mix of hits and more obscure album numbers from throughout Almond's career - do the job. It's worth having to complete the collection, but not one of Almond's more vital releases aside from penultimate studio track A Flowered Goodbye, which is my favourite new song of Almond's I've heard for a while and probably better than anything off of his last solo release. Whether you consider an album worth picking up purely on the strength of one song is up to you, but the rest definitely has its merits too. Your call.