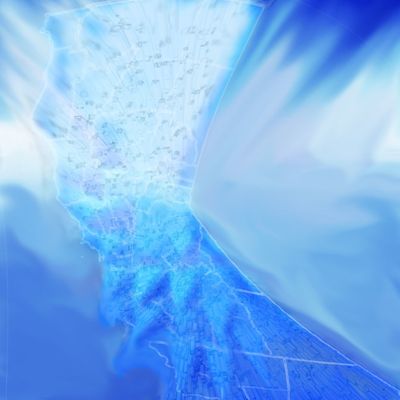 The fourth Logos album Santa Susana Blues was released on 9th August 2014. You can find out more about it on the Logos website here, or stream/download the entire album here or via the widget below.
I tend not to routinely post Logos updates on this site, partly because Logos have their own dedicated website and partly because I know that some of you are less interested in the unconventional sounds I make in the name of music and more in my literary and artistic projects. That said, a new Logos album is a different matter. 
To keep abreast of all things Logos, please go direct to the Logos website. You can also follow us on Twitter here or on Facebook here. 
These tracks were originally created in August 2012, with final work and mixing done in July and August 2014. Four of them - Hungry Knife, The Last Door, 23 Years In The Tombs You Made, and Santa Susana Blues - were completely rebuilt at this stage and bear scant resemblance to the original preliminary versions; a couple of these initial drafts will feature on the forthcoming Logos album Everything Under The Sky, a collection of radically different mixes of tracks from all four Logos albums.
We'll be posting a more detailed look at Santa Susana Blues on the Logos website in due course.
Currently reading: Thomas Ligotti - Grimscribe
Currently listening: Boards Of Canada - Tomorrow's Harvest